Samsung and Microsoft combined forces by integrating Microsoft Teams Walkie Talkie on the rugged Galaxy XCover Pro. They aimed to give frontline workers a one-device, work-anywhere solution that would combine the instant push-to-talk communication of a two-way radio, together with a flexible array of cloud-based workflow apps.
Microsoft Teams enables seamless collaboration among team members, regardless of location or role. Employees can use Teams to chat, share documents and video, as well as access other business apps they integrate into the platform.
Specially designed for frontline workers, the Microsoft Teams Walkie Talkie app integration on the Galaxy XCover Pro goes one step further. Leveraging the XCover Pro's programmable button, frontline workers using Teams can instantly access the push-to-talk (PTT) functionality.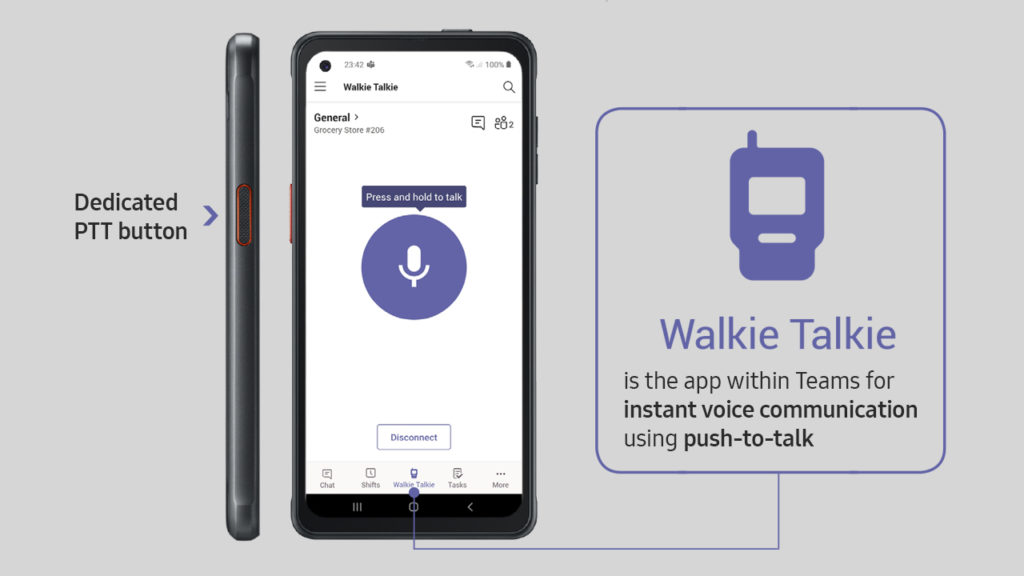 Where to use it
Firstline workers are everywhere — including in government emergency response, healthcare, retail, logistics and supply chain, manufacturing, field service, mining, air travel and hospitality.
Microsoft Teams can be tailored to each worker's specific needs and job functions through the integration of third-party business apps, which can also be accessed via the programmable buttons on the XCover Pro.
Below are a few industry use cases for the Microsoft Teams, Walkie Talkie and the Galaxy XCover Pro.
If you want to check out the Galaxy XCover Pro in a digital 360° environment, hurry over to the reception area in our VirtualIT.
Warehousing
A manager needs to check if zone pickers assigned to a particular area have completed their tasks, so they can be reassigned. Or she needs to reroute labor to assign to a batch picker who is more efficient. The manager presses the XCover key to quickly access Walkie Talkie and selects the channel for the appropriate zone. This allows her to instantly see who is online or to ping multiple team members and assign the right person to a job.
Healthcare
A nurse in a patient room is looking for an X-ray machine that can't be readily found. Time is of the essence. With the push of a button, the nurse can activate the Teams Walkie Talkie feature to immediately call the hospital's stockroom to see if it's possible to expedite the equipment delivery.
Field repair
A field service worker is out on a repair call to attend to malfunctioning equipment in an industrial plant. The field service technician needs to relay an important update to the home office. They use the Microsoft Teams Walkie Talkie feature on their XCover Pro to instantly communicate with the home office about the status of the job. They can also quickly capture video of the issue on their XCover Pro and share this over Teams to help diagnoze the problem. Using the integrated task management apps, they quickly schedule a follow up visit to replace the faulty part.
Please follow and like us: